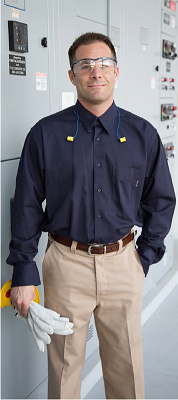 How to Keep Everyone Safe: Safety Management Systems
Safety management systems are designed to be comprehensive and manage safety elements in the workplace. A safety system is a process that continuously operates to reduce hazards and prevent workplace incidents. Safety is a critical element in any business and it's important that all employees buy-in to the safety program. After all, employees are your greatest asset and the company is responsible for putting the proper processes and standards in place to help protect them.
Establishing and maintaining an effective safety management system involves holding management accountable for safety by setting practical and attainable goals, defining roles and responsibilities, establishing effective performance measurements and holding individuals accountable for their actions.
Below are seven important steps in an effective safety management system:
Shared Responsibilities 
Effective communication throughout an organization, between employer and employee, is key to job site safety. Philosophies on safety and health need to be the same among different levels of workers, regardless of title or position within the company. Employers need to communicate their policies on all aspects of the company safety program. Employees then need to know the company policies in order to comply. Taking risks on the job affects not only the employee, but their family and employer. Know the company's safety policy - and if you don't, ask for it!
Safety Programs and Policies 
Companies need safety programs that address all risks to their employees. Principles of the safety program should be explained to employees and emphasized as an expectation of employees' daily work. Employees must understand and identify risks that impact their safety and health; after all, workers are constantly making decisions throughout the day that could impact their safety on the job.
Risk Reduction – Understanding Priorities 
Risks of a particular task should be understood first, before effective methods to reduce them can be implemented. For a safety management system to be successful, employers and employees must develop a common understanding of the hierarchy of safety controls.
For example, OSHA states that PPE is a last resort and the Hierarchy of Controls puts eliminating the hazard as the most effective way to protect workers. FR clothing is never to be used as a primary protection method.
Training and Qualified Persons 
The definition of a "qualified person" has changed over time and most recently, has been updated in the 2015 edition of NFPA 70E. Effective safety management systems need to be led by managers that understand the qualifications of their workers and place them in tasks that are within their knowledge and skillset. Workers can very easily be qualified in one area and not in another. Likewise, workers need to acknowledge their own skills and limitations. This includes being able to admit when they are not qualified to perform a particular task. This is usually where the safety system breaks down, often leading to risks being taken unnecessarily.
Leadership and Management Commitment 
The tone of safety is set at the top of an organization. An effective safety management system requires supportive leadership that establishes a common safety vision for the entire organization. Safety usually means a cultural shift within an organization requiring effort and persistence. Effective leadership means walking the safety walk and not just preaching the safety talk.
Safety System Structure – Why, How, Who 
All departments in an organization should be involved in safety, not just senior leadership or HR. An effective safety management system is a framework of processes, policies and procedures to ensure that workers achieve organizational objectives in the safest manner. Leadership and management are responsible for clarifying the "why" of a safety management system. Operations and technical aspects address the "how." Cultural and behavioral aspects of the safety system guide "who" needs to be involved - that means all employees.
Measuring Safety Performance – Individual and Organizational 
If a company has a safety management system in place, it is essential to evaluate the current state of safety compliance within the organization. Employees need to be involved to determine the strengths and weaknesses of the system over baselines. Once the evaluation is complete, the finding should be shared openly that way any identified deficiencies or gaps can be worked on. Measurable goals should be set against the baselines to gauge improvements.
It is rare for organizations to openly discuss "near misses" or "close calls" on the job. However, by identifying these situations, employees can learn to avoid similar circumstances and in doing so, management will convey a genuine concern for an incident not to be repeated. Employees may also be more forthcoming in reporting incidents without fear of retaliation.
Effective safety management systems take time and resources to develop. However, it will serve as the foundation from which the safety culture of the organization is built and maintained. Take a look at your own company, do you have a safety management system? Is it supported by all employees?
Read the full article by Michael J. Johnston, NECA Executive Director of Standards and Safety, on page 20 of the June 2015 edition of Flame Resistant Insights eZine.