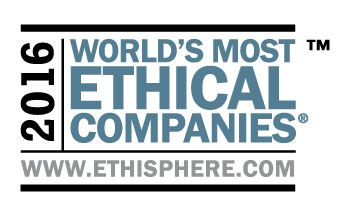 Milliken Named One of World's Most Ethical Companies 2016

General

Press Releases

08 Mar 2016

For the tenth year in a row, Milliken & Company has been recognized by Ethisphere Magazine as one of the World's Most Ethical Companies.
Milliken has long understood that ethical behavior is not just the right thing to do but is a key to sustainable growth, forming the foundation of the company's strong sense of purpose to Do Good. Milliken is proud of its reputation as a global leader in defining and advancing the standards of ethical business practices and a role model for ethical conduct. Each Milliken associate understands that our recipe for success begins with Ethics, Excellence and Leadership.
The World's Most Ethical Companies designation recognizes those companies that align principle with action, work tirelessly to make trust part of their corporate DNA, and in doing so, shape future industry standards by introducing tomorrow's best practices.
The World's Most Ethical Company assessment is based upon the Ethisphere Institute's Ethics Quotient™ (EQ) framework developed over years of research and vetted and refined by the expert advice from Ethisphere's World's Most Ethical Company Methodology Advisory Panel. The EQ offers a quantitative way to assess a company's performance in an objective, consistent and standardized way. The information collected provides a comprehensive sampling of definitive criteria of core competencies, rather than all aspects of corporate governance, risk, sustainability, compliance and ethics.
Milliken is honored to be one of just 14 companies to receive this designation every year since Ethisphere's inception in 2007 and is one of 21 privately held companies to be recognized this year.
"The landscape of corporate ethics is changing, driven by an increasing desire for transparent relationships with companies in the industries and local communities in which they operate," shared Dr. Joe Salley, Milliken & Company president and CEO. "Strong ethical values and a passion for meaningful innovation unite all Milliken associates worldwide."