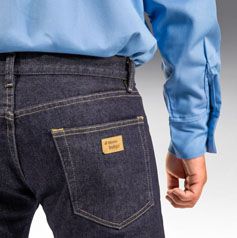 For over 30 years, Westex's market-proven FR denim fabrics have been used for protection and rugged durability in a wide variety of industries. Westex Indigo® denim builds on this proven performance with upgrades in look and feel to achieve the ultimate comfort and style. Plus, advancements in fabric design produce better mobility and durability.
For many workers, denim is often the fabric of choice. Consumer insights revealed the unmet need for guaranteed flame-resistant (FR) denim to provide the same comfort and style of everyday denim clothing, including reduced shrinkage and a very soft hand. Announced in 2015, our exclusive partnership with Cone Denim® introduces innovative flame resistant denim apparel fabrics to the market.
Westex Indigo® combines market-proven FR protection and premium performance — all leading to maximum productivity.
Westex Indigo® offers:
A market-proven life of the garment FR guarantee
Rugged denim durability and versatility
Engineered comfort and mobility
A broad offering of styles and innovations The Westex Indigo® flame-resistant fabrics are certified to NFPA 2112 and meets NFPA 70E PPE Category 2 protection. Guaranteed flame resistant for the life of the garment in either high-temperature industrial or home washing procedures, Indigo® provides protection from electric arc and flash fire exposures as well as multi-purpose protection from molten ferrous metal and welding exposures.