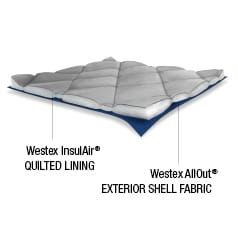 Our line of quilted products made with Silica Rayon and Poly High Loft offers excellent thermal stability in cold outdoor environments. Westex InsulAir® is available in light (10 oz), mid (13.5 oz) and heavy-weight (15.3 oz) insulation systems that are NFPA 2112-certified and guaranteed flame resistant for the life of the garment. When combined with Westex AllOut®, workers will stay warm and comfortable in even the harshest cold weather conditions. Westex InsulAir® is the next generation in multi-hazard quilted FR lining.
Some of our most popular cold-weather layering systems combine Westex InsulAir® lining and Westex AllOut® 6.5 oz aramid and 8.5 oz lightweight twill fabrics. These systems provide NFPA 70E Cat 3 and Cat 4 compliant options.
Contact us today for more multi-layer system options, arc ratings and test data.
Features of Westex InsulAir®:
High loft layered system provides superior warmth
Available in light, mid and heavy-weight options
NFPA 2112 certified
*NFPA 70E Cat 4 compliant when paired with Westex AllOut® style 0303