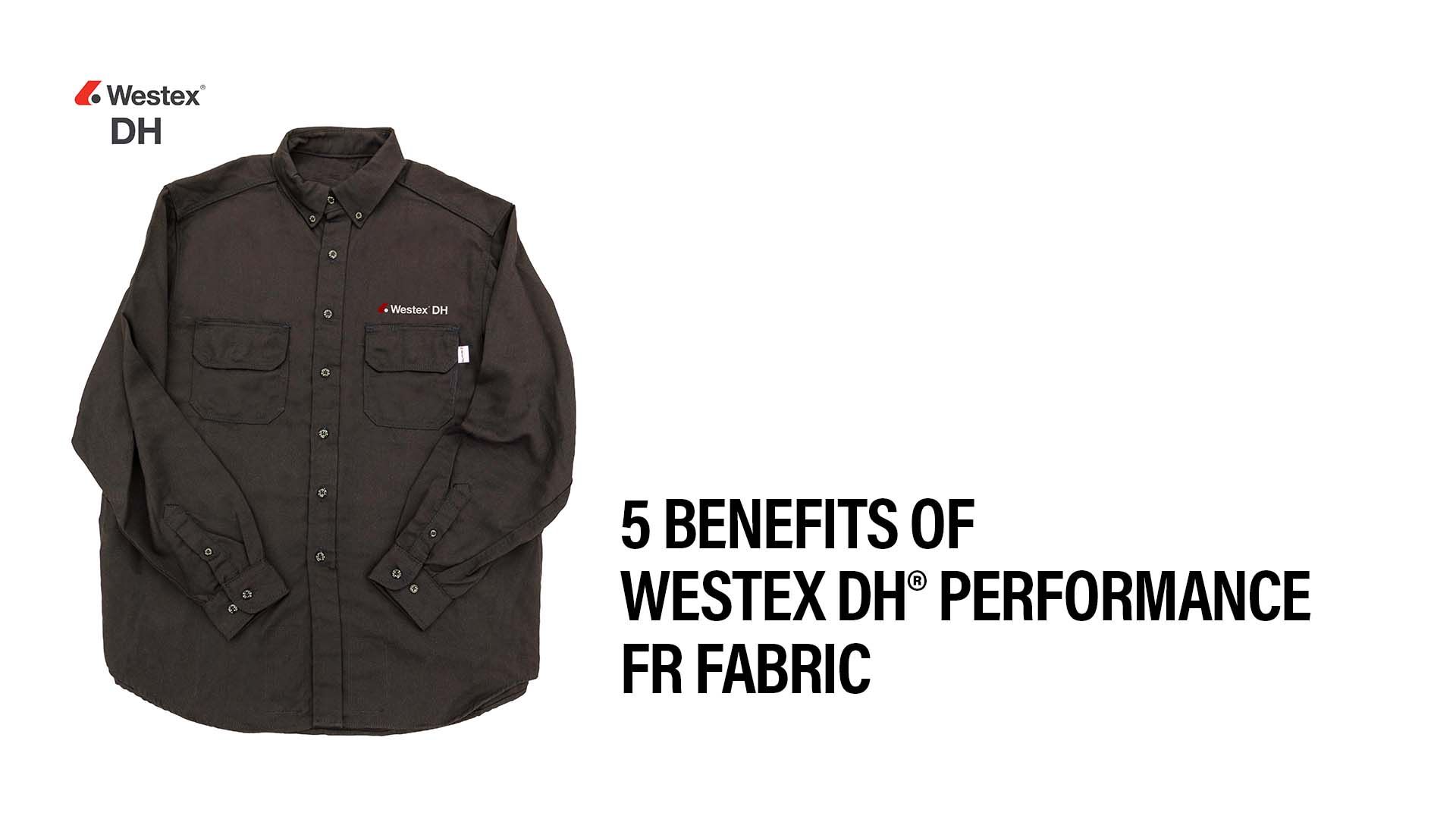 5 Benefits of Westex® DH Performance FR Fabric

FR Fabric Education

General

Arc Flash Videos

FR Technical

23 Oct 2018
Unexpected arc flash and short-duration thermal exposure from fire hazards, also known as flash fire, are a daily reality for electric utility and oil and gas workers. To help keep workers safe on the job, industrial personnel require ongoing hazard protection in addition to specific attire for certain tasks. Everyday FR apparel, such as work shirts, pants and jeans, is an easy solution for these workers to be adequately protected in the event of an arc flash or short-duration thermal exposure from fire.
Personal protective equipment (PPE) should work for the overall benefit of industrial workers. That means reliable protection against the hazard at hand without compromising comfort, so workers can perform their jobs without interruption or deterrence.
Fabric is the single most important aspect of a garment when it comes to FR protection, and innovations are enabling FR fabric to provide functional benefits beyond flame resistance with comfort and performance features. The result enables easy wear, and therefore, easy adoption of everyday FR apparel.
Below you'll find five benefits of Westex® DH Performance FR fabric that make adopting everyday FR apparel a simple and desired safety solution.
Breathability
The ability for a fabric to breathe is critical for comfort in FR garments, so Westex® DH features a unique non-cotton, woven blend that allows air to easily pass through. This breathability is beneficial in all types of weather, keeping workers cool in summer heat and ensuring workers stay warm during winter in layered FR systems without sweating.
Moisture wicking
Field work in the electric utility and oil and gas industries is physically demanding, and outdoor conditions mean there is one less variable safety managers can control – the temperature of a working environment. Westex® DH is a superior choice to leading competitor blend fabrics due to its faster moisture absorbency. Westex® DH is an excellent moisture wicking fabric, specifically engineered to absorb sweat and moisture at a higher rate than competing FR fabrics. The result enables workers to stay cooler, drier and more comfortable on the job.
Easy care & maintenance
Easy care and maintenance of FR garments further your investment in an everyday FR apparel program. With a low propensity for pilling, Westex® DH retains an excellent after-wash appearance. Garments made with Westex® DH can be laundered at home or through industrial laundries. Stains can also be pretreated for easy removal, and garments can be tumble dried for a smooth, wrinkle-free appearance.
Branded reliability
Brand name FR textiles are trusted because they have been market proven to protect workers. Brand name reputations also help you know exactly what you are purchasing. Not all FR fabrics, or constructions, are the same. In fact, there are significant differences in how similar fabrics with similar fiber constructions perform. As such, it's critical to have a deep understanding of the FR fabric manufacturer — its reputation, history and technology — and the specific science used to give your FR garment protective properties.
Westex® DH carries Westex by Milliken's more than 60 years of trusted, award-winning FR expertise and commitment to FR innovation. Westex® DH is a result of our continued commitment, as the next generation of performance FR fabric.
Third-party verification with performance details
AR/FR qualities are not visible, so you must verify the performance of your FR apparel. Having an AR/FR daily workwear garment that meets NFPA 70E and/or is certified to NFPA 2112 is a necessary starting point, but there is a vast disparity between products that comply with NFPA 2112 and NFPA 70E. For example, since all fabrics with less than 50% body burn can be certified to NFPA 2112, it is important to know the actual body burn percentage of the ASTM F1930 test.
Westex® DH is certified to NFPA 2112, providing 8.8%-35.3% total body burn (respective to the specific fabric weight) under the ASTM F1930 test. Most weights also meet NFPA 70E PPE category 2 with arc ratings greater than 8 cal/cm2 for arc flash protection.
Discover Westex DH
Westex® DH performance FR fabric is available in various weights, making it suitable for effective, yet lightweight FR shirts, vests, coveralls, pants and jackets. Visit us during NSC Congress & Expo at booth 3627, to discover more about how Westex® DH can improve your FR PPE program and where you can purchase. Click here to learn more about Westex® DH today.