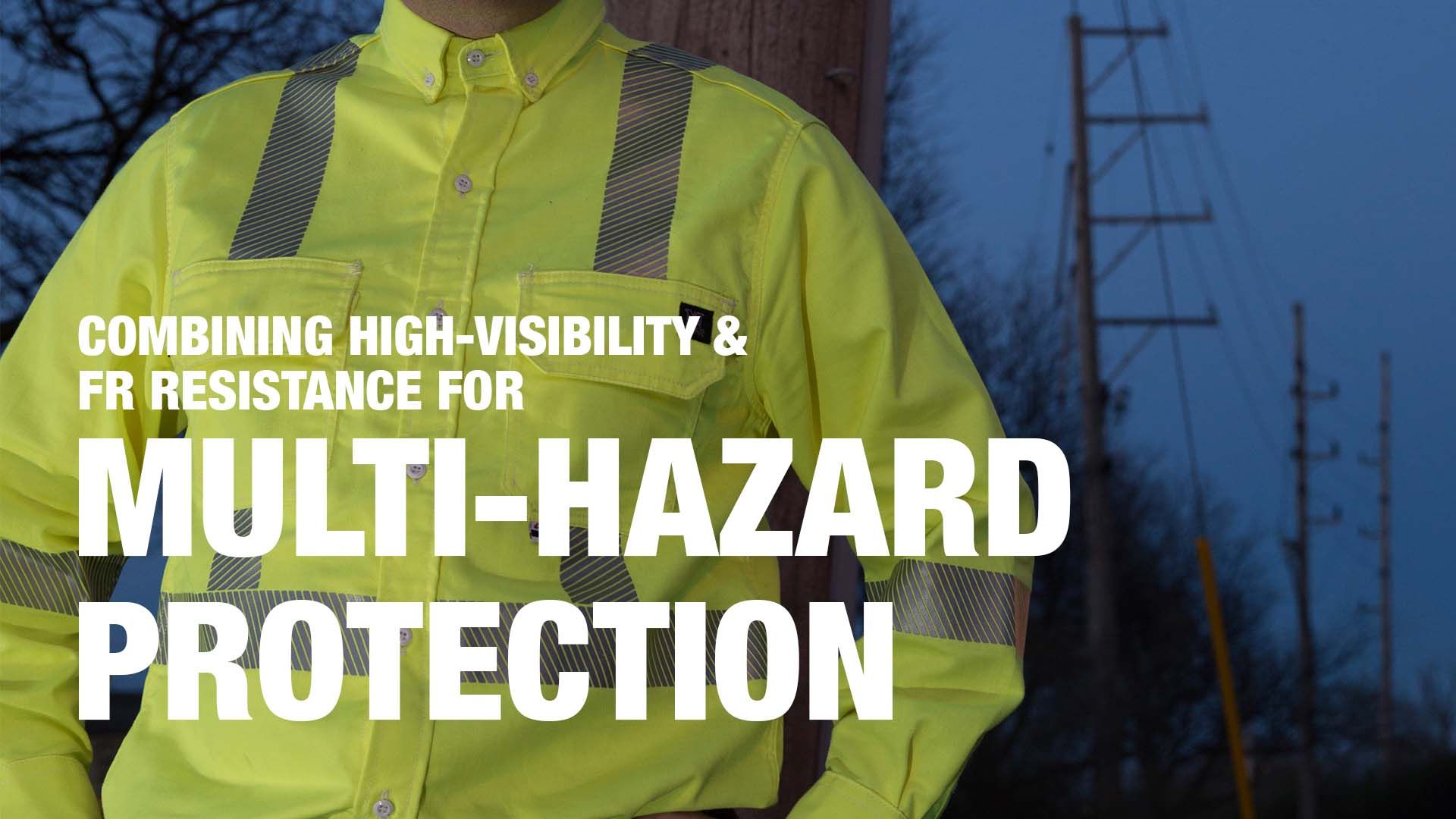 Combining High-Visibility & FR Resistance for Multi-Hazard Protection

FR Fabric Education

General

13 Aug 2018
Workers in utility and oil and gas industries have specific needs for high-visibility and FR protection on the job. They operate in areas with large amounts of electrically charged equipment and flammable materials, often during nighttime and in complex settings.
While the need for FR PPE in these lines of work has been established, high-visibility protection has only recently been widely recognized.
The American National Standard Institute introduced ANSI/ISEA 107 in 1999 to establish performance criteria for high-visibility safety apparel, including recommendations for workers facing direct hazards of right-of-way traffic. The goal: provide full visibility, or conspicuity, of workers in hazardous situations during day and night through reflective apparel.1
Prior to 2015, the code included three high-visibility classifications:
Performance Class 1 – the lowest visibility required to be seen on worksites;
Performance Class 2 – for longer detection ranges; and
Performance Class 3 – the highest visibility required to be conspicuous while in complex backgrounds.2
While the rating determined the level of garment visibility, it didn't indicate which work environments require specific classes, leaving companies and workers to guess at the most appropriate high-visibility garment for their needs.
In 2015, ANSI/ISEA 107 was revised to incorporate three types of high-visibility apparel, based on use settings and work activities: off-road (Type O), roadway and temporary traffic control (Type R), and public safety activities (Type P).3
Oil and gas falls into Type O – the minimum high-visibility needed to distinguish oneself from non-complex backgrounds. While workers in this industry do not face direct hazards from oncoming road traffic, they do need to be conspicuous against large equipment. Utility workers are advised to wear Type R high-visibility clothing, as they could work in proximity to roadways.4
These high-visibility needs are in addition to unexpected arc flash and flash fire protection.
Arc flash hazards
Electric utility workers face arc flash hazards - electrical explosions or discharges that travel through the air between conductors or from a conductor to ground. The National Electrical Safety Code (NESC) requires employees who work on or near energized parts of equipment with energies exceeding 2 cal/cm2 to wear protective, arc rated (AR)/FR clothing. To comply, the AR/FR clothing must provide a proven arc rating equal to or greater than the anticipated level of energy.
For AR/FR clothing, a hazard assessment must be done to provide a reasonable estimate of incident heat energy to which an employee would be exposed. The NESC tables may be a viable option for hazard assessment and AR/FR PPE selection; the most common PPE categories have arc rating minimums of 4, 8 and 12 cal/cm2.
Oil and gas workers are routinely in danger of flash fires - a moving flame front that spreads rapidly through a diffuse fuel in air. NFPA 2112 is the industry standard on FR garments, establishing minimum criteria to protect industrial personnel against flash fire. The standard's primary performance criteria is a pass/fail maximum of 50-percent body burn for a three-second flash fire via instrumented manikin testing, described in ASTM F1930. There is a wide variation in protective performance in NFPA 2112 compliant clothing since 49 percent and 1 percent body burn at three seconds both pass.
FR + high-visibility protection
Utility and oil and gas workers must adequately protect themselves from multiple hazards. However, wearing multiple PPE can decrease their range of motion, affecting their ability to perform their job comfortably, and introducing the likelihood that they aren't adequately protected against worksite hazards.
To make FR and high-vis protection easy to adopt (1) reduce the number of PPE layers that workers must wear and (2) prioritize comfort, fit and feel. Textile innovations in high-visibility and FR protection have made these qualities easy to achieve without compromising performance.
Look for multi-hazard fabrics combining FR and high-vis that meet or exceed the industry criteria for each hazard. Select FR fabrics that are also available in the bright colors certified to ANSI 107 for critical visibility conditions.
References
1 Nighswonger, Todd. "Do Your Workers Need High-Visibility Apparel?" Occupational Hazards. Jan. 2011. Questia. Web. 3 Feb. 2017.
2 "High Visibility Apparel in Work Zones: Characteristics of High-Visibility Safety Apparel." National Work Zone Safety Information Clearinghouse. 9 July 2012. Web. 3 Feb. 2017.
3 "ISEA updates standard for high-visibility worker apparel." ISHN RSS. BNP Media, 16 Feb. 2016. Web. 3 Feb. 2017.
4 "ANSI/ISEA 107-2015 High Visibility Safety Apparel and Accessories." ISHN RSS. BNP Media, 1 JAN. 2017. Web. 3 Feb. 2017.
This article originally appeared in the March 2017 issue of Industrial Safety & Hygiene News  Web: https://www.ishn.com/articles/105982-combine-hi-vis-fr-protection