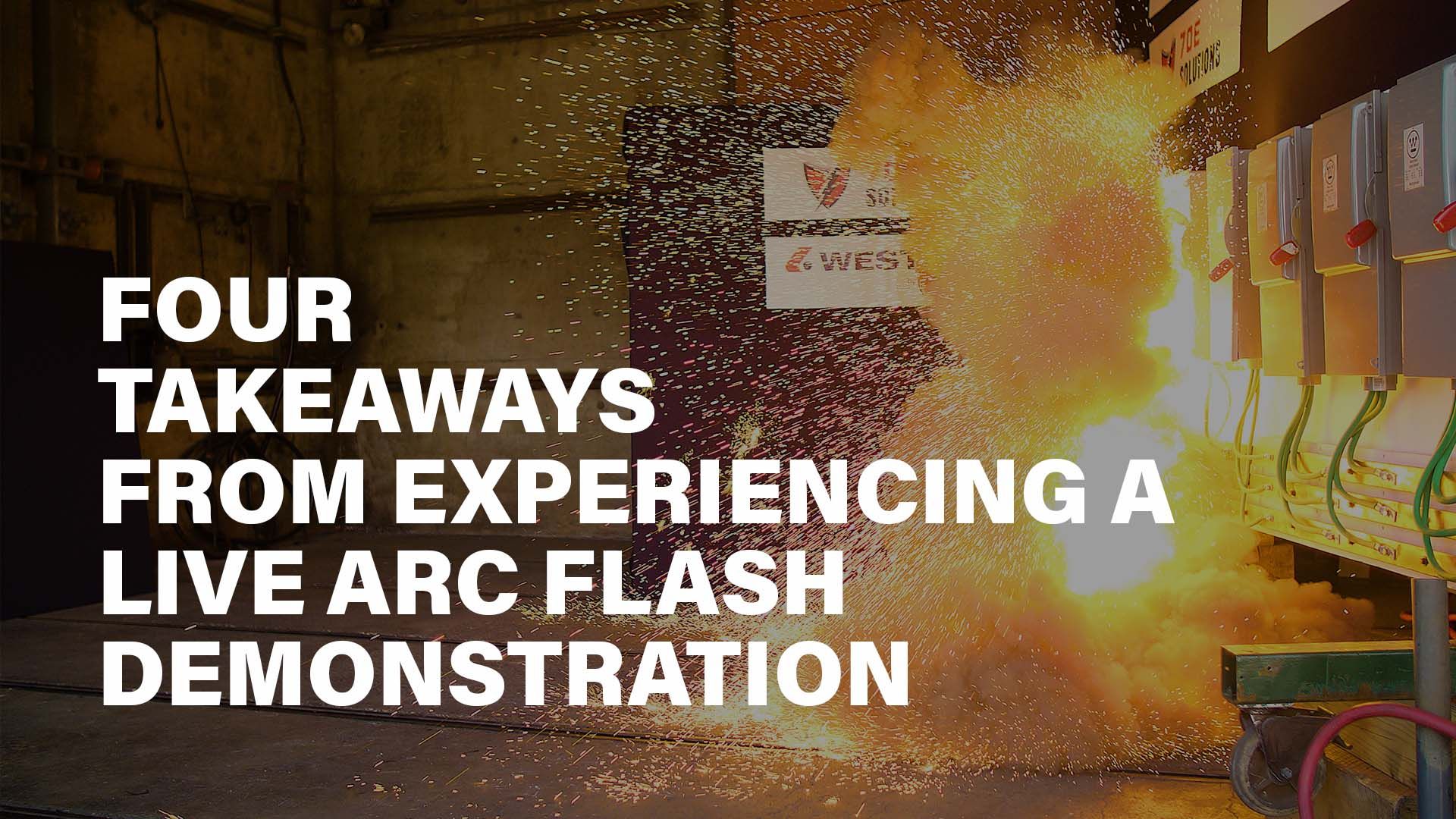 Four Takeaways from Experiencing a Live Arc Flash Demonstration
As any safety manager will tell you, understanding hazards is as important as identifying them. Through understanding, you can appropriately plan for and mitigate job worksite hazards in order to build a safety program that successfully protects your employees.
Recently, Westex by Milliken hosted a one-day educational session to help those in the electrical industry understand and experience first-hand an arc flash event. Exploring the arc flash enabled a better understanding of this electrical hazard for the benefit of their safety programs and, ultimately, their employees.
We asked a few attendees their thoughts after our demonstration, and they pointed out four vital takeaways, which are helpful for anyone formulating or implementing a proper personal protective equipment (PPE) program.
1. Don't take an arc flash for granted.
"What's important about having these types of events is that you get to witness what actually happens in the case of an [arc flash]. A lot of people don't really understand what really happens until you actually see it." – Bill Weyand
As Bill pointed out, it is sometimes easy to relegate an arc flash to the back burner. You don't often see – and you hope you never see – an arc flash on site, but that doesn't diminish the sheer damage an arc flash can produce. Employers are responsible for protecting their electrical workers, and through a hierarchy of risk controls, both employers and employees can work together to eliminate various site hazards.
As the last layer of defense in this hierarchy, PPE is a necessary element of your safety program. It can be the difference between minor and life-threatening injuries, and is a constant barrier when other controls have passed their ability to protect.
2. Specifying arc rated (AR) / flame resistant fabric is a major part of building a program.
"I think it's important to come to … raise awareness of how dangerous electricity can actually be, and how great FR clothing is and how protective it is."  - Stephanie Baer
AR/FR PPE sometimes can make all the difference, and experiencing an arc flash in a controlled environment showcases this multi-layer hazard in a concrete manner. Arc flashes produce searing temperatures, spray molten copper, ignite and burn non-FR apparel, and can cause long-lasting health implications. It is important that, in selecting fabric for your PPE program, you know what to ask for by name.
In specifying Westex®, our fabrics are guaranteed flame resistant for the life of the garment and have been market-proven for decades.   Westex® flame resistant fabrics not only comply to industry standards like NFPA 2112 and NFPA 70E but offer unmatched comfort to provide uniforms workers want to wear.  By relying on an industry-leading brand, you are securing the best protection for your employees and leaving nothing to chance.
3. PPE is only as effective as it is worn.
"I think it's important to reach out to everybody who is not aware of arc flash and the dangers, and to bring everybody up to speed on the proper clothing – to keep yourself safe, and to make sure you are headed home to your family each day." - Chris Ippoliti
Time and money may be invested into a PPE program, but ultimately PPE is only going to protect employees if it is used and worn correctly. Educating employees on PPE and how it can save their lives is an important step towards creating a culture of safety. In addition, with the updated 2018 NFPA 70E standard, employees are required to follow employer safety practices and procedures – including wearing PPE, such as AR/FR apparel - and employers can set the tone to do so.
In the same vein, employers also can ensure PPE is worn by implementing an everyday PPE program, instead of a task-based program. Advances in AR/FR fabrics ensure access to comfortable and stylish garments that employees want to wear. By always wearing certified AR/FR garments, the risks of incorrect hazard identification and employee compliancy are greatly mitigated for the benefits of all parties.
4. Education is always ongoing.
"It was a great experience and I definitely would suggest anybody and everybody being a part of this [arc flash demonstration] in the future." – Joshua King
As part of our dedication to the safety industry, Westex by Milliken understands the value of continuing education and hosts a number of informational events throughout the year. From our demonstration days – held nationally and internationally – to webinars and white papers, we want to provide you with the resources needed to make informed decisions. Learning is a life-long process, and the safety industry is no different. To remain compliant, safety managers and engineers should be on the cutting edge of updates and developments. We hope to be a valued resource for all our current and future customers.