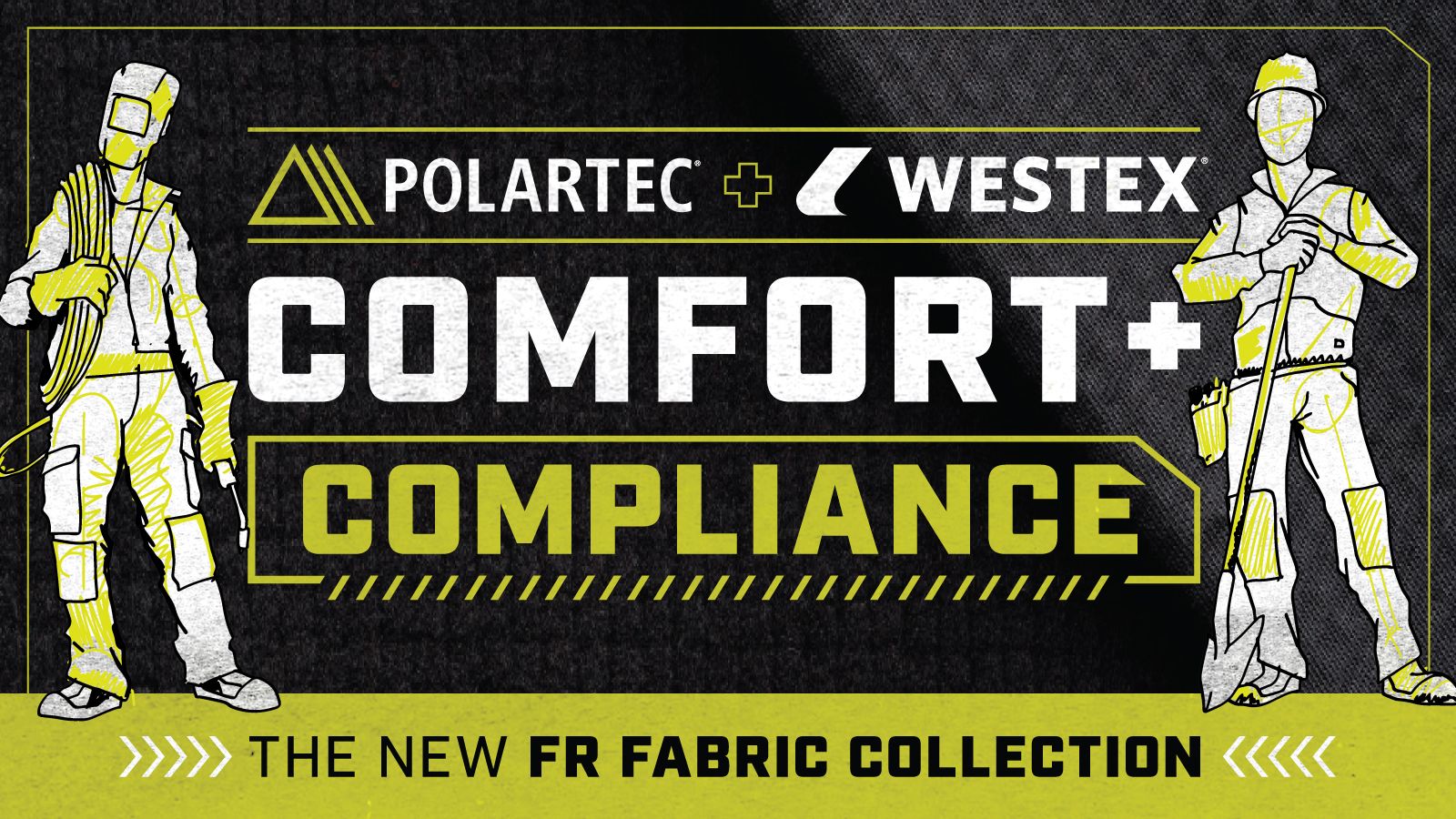 Introducing the Polartec® FR Collection

General

Press Releases

01 Dec 2020

Westex and Polartec Debut Polartec Flame Resistant Collection Two category leaders collaborate to produce flame resistant/arc-rated knits certified for the job with overtime comfort.
SPARTANBURG, S.C. — Two Milliken & Company textile businesses—Westex®, a leader in dual-hazard protective textiles, and Polartec®, the premium provider of innovative and sustainable textile solutions—announce a new collection of flame-resistant (FR), arc-rated (AR) knit fabric. Known as the Polartec FR Collection, the collection introduces three unique Polartec fabric constructions engineered with Westex FR/AR fabric technology that provides trusted thermal hazard protection. The products span shirting, insulation and weather resistance fabrics that meet or exceed worldwide protection standards for even the most demanding industries, including oil & gas, electrical, construction, and military use.
"It's a collaboration that draws on the best of both brands, with Westex contributing its expertise in FR/AR fabric engineering and design and Polartec as an expert in performance fabric constructions," shares Michael Langley, Vice President of Marketing & Sales for Westex. "Incorporating our engineered FR technology—technology we have expanded and refined over the course of our 60-year history—into performance knits and fleeces that are market leaders in their own right is a win-win for our customers."
"With this Westex collaboration, we're bringing the pinnacle of outdoor and athletic performance fabrics into the PPE space," adds Polartec President Steve Layton. "The products that millions of people wear hiking, mountain climbing, and athletic training now have the added benefit of uncompromising FR/AR protection thanks to Westex's technology. This is a game-changer for workers everywhere."
The Polartec FR Collection knits patented tri-blend yarn into flame-resistant, temperature-regulating fabrics—meaning dual-hazard thermal protection is engineered directly into the fiber and is guaranteed for the life of the garment. The collection comprises three individual lines:
Polartec® Power Dry® FR Offering superior next-to-skin moisture management, Polartec® Power Dry® FR uses bi-component knit to deliver mechanical wicking action and high breathability for fast drying times and efficient, comfortable performance in a shirting fabric. Power Dry® FR comes in two weights: a 4.5oz jersey knit base layer certified to NFPA 2112 and offering NFPA 70E Category 1 protection, and a 6.4oz pique knit certified to NFPA 2112 and offering NFPA 70E Category 2 protection.
Polartec® Power Grid™ FR Utilizing Polartec's famous grid construction, Polartec® Power Grid™ FR provides superior warmth without weight, minimal bulk and the combined ability to both trap warm air and quickly dump excess heat during high exertion. Power Grid™ FR is a 9.6oz jersey knit compliant with NFPA 2112. It also offers NFPA 70E Category 2 protection and meets CSA Z96 and ANSI 107. The fabric is ideal for lightweight jackets and balaclavas.
Polartec® Wind Pro® FR Answering the call for weather-resistant FR fabric, Polartec® Wind Pro® FR is four times more wind resistant than classic fleece to reduce wind chill and repel moisture while maintaining breathability and comfort. Suitable for jackets, the 11.6oz jersey/velour Wind Pro® FR is NFPA 2112-certified, provides NFPA 70E Category 2 protection and meets ANSI 107.
For more than 60 years, Westex has been a leader in creating fabrics that offer superior dual-hazard protection for a wide range of applications. Polartec, acquired by Milliken & Company in 2019, is a frontrunner in premium and sustainable performance textiles for the apparel market.
For more on the Polartec FR Collection, click here.
About Westex®: A Milliken Brand Westex has more than 60 years of experience manufacturing flame resistant fabrics. Millions of garments made with Westex brand FR/AR fabrics are in service globally in the utility, electrical maintenance, oil and gas, and metals industries. With a strong commitment to the FR/AR clothing marketplace and a deep understanding of the needs of the FR supply-chain and end users, Westex has a proven track record of offering FR/AR fabrics with an excellent balance of protection, comfort and value. For more information, visit Westex.com, and join us on LinkedIn.
About Polartec® Polartec is the premium provider of innovative and sustainable textile solutions. Since inventing modern technical fleece in 1981, the engineers at Polartec continue to advance the science of fabric, creating fabric technologies that solve problems and improve the way products are designed and used. Polartec products range from lightweight wicking and cooling fabrics, to insulation and weather protection technologies, and are utilized by leading consumer brands, the U.S. Military and other global militaries, flame resistance, and contract upholstery markets. For more information, please visit Polartec.com and follow Polartec on Instagram, Facebook and Twitter.
About Milliken Materials science expert Milliken & Company knows that a single molecule has the potential to change the world. With innovative solutions across the textile, flooring, specialty chemical, and healthcare industries, Milliken answers some of the world's greatest challenges. Named to the World's Most Ethical Companies list by Ethisphere Institute for 14 years, the company meets the moment with an unwavering commitment to delivering sustainable solutions for its customers and communities. Eight thousand associates across 46 locations globally rally behind a common purpose: to positively impact the world for generations. Discover more about Milliken's curious minds and inspired solutions at Milliken.com and on Facebook, Instagram, LinkedIn and Twitter.