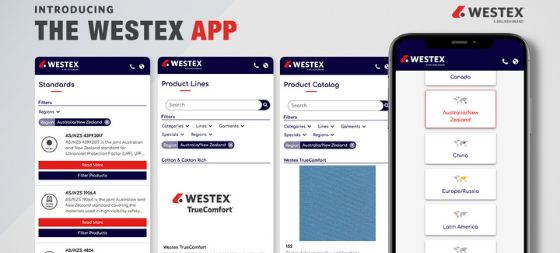 Introducing the Westex App

Westex Launches Mobile App to Streamline FR/AR Product Selection Process The first-to-market tool matches products to global safety standards
SPARTANBURG, SC (Feb. 9, 2021)—Westex: A Milliken Brand, announced today the launch of a new product selection app, the Westex App, developed to provide users a way to custom build a FR/AR uniform based on their workforce's individual safety standard requirements. The free mobile app is available for iOS and Android mobile devices.
"We heard through industry research that the process to select the right personal protective equipment (PPE) was overwhelming and complicated. A complex system combined with challenges of 2020 brought underscored the immediate need for a better method. As the global leader in FR/AR fabrics, the Westex team believed we could create a tool to simplify the PPE selection process, enhance the buying experience and meet customers where they are," said Michael Langley, vice president of sales and marketing at Westex. He adds, "Regardless of your industry and the specific needs your team has or the hazards they face, the Westex App matches users with the best FR/AR fabric for their individual needs."
Innovative features on the Westex App include:
Product selection by safety standard. Users start their search with the safety standards applicable to their team's needs and from there, can filter by product attributes like water resistance, anti-static and stretch. If a user is unsure of the specific standards their team needs to comply with, the hazards tab provides a brief overview of common hazards, such as combustible dust and arc flash.
Global perspective. Over 15 global safety standards are included in the app. Users simply select their region, then their standards and the app directs them to products that meet the criteria, making it easier to outfit global teams without sacrificing quality or compliance.
Interactive uniform builder. An interactive uniform builder matches product selections to specific garments. After building their uniform, app users can download a specification sheet to provide their uniform supplier or save the uniform in the app for future reference.
The free mobile app is available to download now in the Apple App Store or Google Play Store. The product selection tool can also be viewed online at app.westex.com.
Visit the Westex App landing page here.
About Westex®: A Milliken Brand Westex has more than 60 years of experience manufacturing flame resistant fabrics. Millions of garments made with Westex brand FR/AR fabrics are in service globally in the utility, electrical maintenance, oil and gas, and metals industries. With a strong commitment to the FR/AR clothing marketplace and a deep understanding of the needs of the FR supply-chain and end users, Westex has a proven track record of offering FR/AR fabrics with an excellent balance of protection, comfort and value. For more information, visit Westex.com, and join us on LinkedIn.
About Milliken Materials science expert Milliken & Company knows that a single molecule has the potential to change the world. With innovative solutions across the textile, flooring, specialty chemical, and healthcare industries, Milliken answers some of the world's greatest challenges. Named to the World's Most Ethical Companies list by Ethisphere Institute for 14 years, the company meets the moment with an unwavering commitment to delivering sustainable solutions for its customers and communities. Eight thousand associates across 46 locations globally rally behind a common purpose: to positively impact the world for generations. Discover more about Milliken's curious minds and inspired solutions at Milliken.com and on Facebook, Instagram, LinkedIn and Twitter.