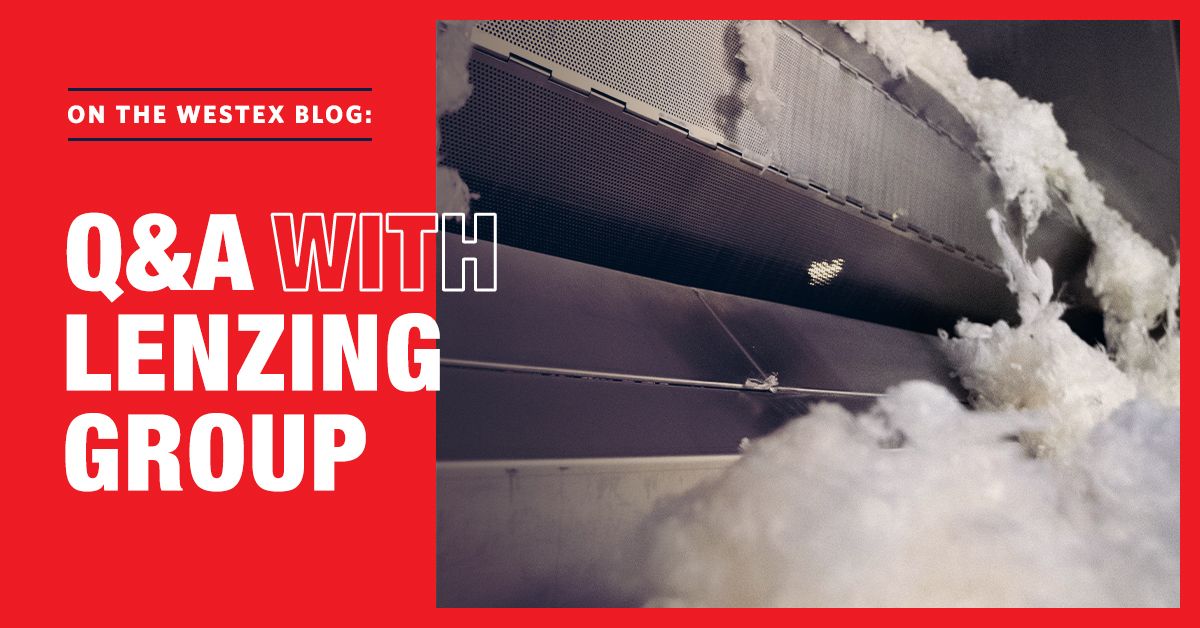 Looking Ahead to a More Sustainable Future: A Conversation with Lenzing Group
In the protective apparel market, safety is king. But in recent years, apparel programs have started to evaluate how to integrate sustainability into the garments that keep the hardest working industries safe on the job. That's where fabric manufacturers take the lead; from designing garments that last longer (and stay out of landfills) to working with industry partners to make the product development process more sustainable.
At Westex, we're working with industry partners, like the Lenzing Group, to enhance sustainability efforts within the protective apparel industry. The Lenzing Group is a global producer of cellulosic fibers that are used extensively in protective apparel applications. Their primary raw material is wood, sourced in a sustainable manner and processed with environmentally friendly manufacturing processes and innovative technologies.
We sat down with Jason Elder, business development manager (North America), FR/Protective Wear at Lenzing Group to learn more about the use of renewable fibers, the challenges that come with integrating into textiles and the trends they see coming to the protective apparel industry in the near future.
Which of Lenzing's fibers are most often seen in protective apparel programs? Why are these the most commonly used in this market? We have two products—LENZING™ FR and TENCEL™ Lyocell; both of which are often blended with other high performance fibers to address the specific needs and threats of an application. LENZING™ FR and TENCEL™ Lyocell fibers are safe to wear, provide comfort, moisture management, add flexible color options and have excellent insulative capabilities. LENZING™ FR specifically, is inherently FR (meaning, FR without chemical treatment) in addition to providing excellent thermal resiliency as compared to other high performance fibers.
Our products are sought after globally because of three things— their performance characteristics, their comfort capability and they are sustainable.
Both Lenzing™ FR and TENCEL™ Lyocell are based on sustainably sourced (renewable) raw materials, produced in highly circular, energy efficient processes and are biodegradable.
How does Lenzing ensure that its fibers are produced in a sustainable and ethical manner? Sustainability is the foundation of everything we do at Lenzing. Our products and processes are registered and audited by multiple third-party organizations who verify our work. Lenzing is also certified and validated with 'science based targets.' The work that goes into these assurances is detailed and can be complex.
What are some best practices for sourcing sustainably in flame-resistant clothing? Educate yourself on your needs and ask critical questions. Look at the labels and identify what the garment is made of. Study the brands and the materials used by going to the manufacturers website and look for their environmental / sustainability credentials, their sustainability reports and certifications. If you see Lenzing™ FR and/or TENCEL™ branding on the label, or one of our brand licensees Lenzing certified swing tag, then you know this product is made with responsibly made fibers.
What does Lenzing see as some of the biggest sustainability challenges facing the protective apparel industry? There are two major issues. First, there are limits to how 'sustainable' a protective textile can be with today's technology. To adequately protect a user from a thermal threat, for example, blends of fibers must be used in combination with Lenzing fibers, some of which would not be considered sustainable. To be fair – however, as these fibers are extremely effective (and needed) in protecting the user, many manufacturers are busy mitigating this deficiency by investing in both recycling technologies and improved (more sustainable) manufacturing processes.
Secondly, educating the market that there is value in a sustainable product. Purchasing protective apparel that is more durable and lasts longer, for example, reduces waste and can oftentimes be less expensive in the long run. Also, defining what sustainability itself means for our industry and choosing materials and manufactures that can maximize this because protecting users from threats to personal safety is still the highest priority.
What are some of the latest trends in sustainable FR/AR clothing that you're seeing? Sustainability itself is a relatively new trend in the protective apparel market. We are seeing protective apparel consumers, from automotive manufacturers to the U.S. military asking more questions about sustainability and how our materials fit into the bigger picture. That is also a new trend— 'asking questions' about sustainability. We also observe that many companies in our industry are developing new (and more) products with our fibers and are themselves investing in more efficient manufacturing processes.
What advice would you give to people who are looking to source more sustainable materials? I recommend that people speak to their distributors and garment suppliers. If you don't have access to them, then ask your supervisor, your purchasing manager or your safety /EHS manager. It begins with asking critical questions. That said, don't be surprised if they don't have a complete answer for you. As we are all learning how best to communicate what sustainability means in our industry and how to address these needs while still offering maximum protection and value. When the customer asks, the market will respond. Companies like Lenzing are proud to call ourselves leaders in helping the protective apparel industry become more sustainable overall.
What are some of the most common misconceptions about sustainable protective apparel? It's more expensive. It's not as protective. These are common misconceptions that I hear all the time. People are often surprised when we show them a product Lenzing has developed with our partners that is better protective, more comfortable and less expensive—while at the same time having a sustainability component.
If you have any questions about our partnership with Lenzing, contact us.