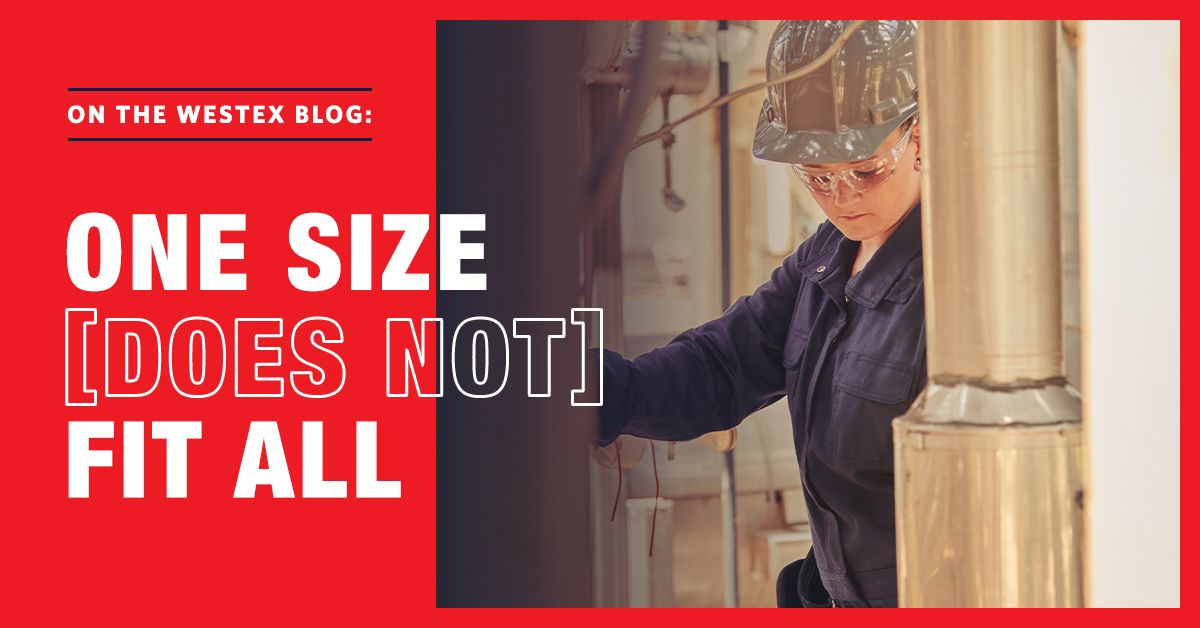 "One Size [Does Not] Fit All": The Evolution of Women's PPE
Ask anyone in the utility or oil and gas industry: more women are entering the workforce in these male-dominated fields.
It's a huge win for the diversity of these industries, but in recent years, it's posed a new problem – how do we alter flame-resistant/arc-rated (FR/AR) garment programs to suit women?
You might assume that FR/AR garment programs are "one size fits all," but unfortunately, that couldn't be further from the truth. Not only do ill-fitting garments lead to workplace dissatisfaction and on-the-job discomfort, they also jeopardize the compliance of your occupational hazard mitigation programs and exposes workers to potentially life-altering injuries.
Five Garment Considerations
Best practices encourage women-specific PPE garments to include garments that provide critical protection against arc flash and flash fire incidents. These five garment considerations are especially important to women in the workforce, but are truly applicable to all workers, fitting both male and female selections:
An appreciation for stretch.
The utility and oil and gas industries have some of the most demanding jobs with a lot of movement throughout the day in extreme climates or harsh conditions. These workers need garments that move with them. Thanks to textile innovations of the past 20 years, protective fabrics now offer leading stretch properties that mirror today's trending streetwear.
Looking for an FR/AR fabric with stretch? Review the Westex® stretch collection.
Comfort is key.
FR/AR garments form a critical final layer of defense should an unfortunate short-term thermal hazard arise, but these garments can only be helpful if they're worn. By accounting for comfort in your fabric specification and garment construction, you take one more step towards ensuring all workers are appropriately protected throughout the day.
Moisture management is one aspect of comfort. Polartec® Power Dry FR gives you superior wicking in a highly breathable protective fabric.
Prioritize style (and fit).
One size can't, and shouldn't, fit all. Be sure your FR/AR garment program appropriately accounts for a wide range of body sizes and shapes for males and females.
Bonus points for FR/AR garments that mimic what you wear once the work day is over. Westex® Indigo is a premium FR/AR denim that easily transitions to all parts of your day.
Functionality means wearability.
Have you field-tested your garments? Are you asking for worker feedback as you compile your garment program? These questions are just a few of the many ways to assess garment functionality on-the-job. If these garments function as they should, and account for the needs and desires of your individual workforce, then you can rest assured in the functionality of your program.
Functionality extends to care and maintenance, too. Westex® TrueComfort is an ideal protective knit that is well-suited to home laundering.
Protection above all.
Extra small to extra-extra-large, male to female, and everywhere in between, FR/AR garments offer a measure of protection that should include peace of mind. Your garment is only as good as your FR/AR fabric selection, so opt for branded and proven protection to gain the most out of your program.
Many Westex® brand fabrics are dual-hazard certified, meaning they are appropriate for both electrical and flash fire hazards.
If you'd like more information on or have questions about any fabric and garment considerations, connect with our FR fabric experts for an answer.