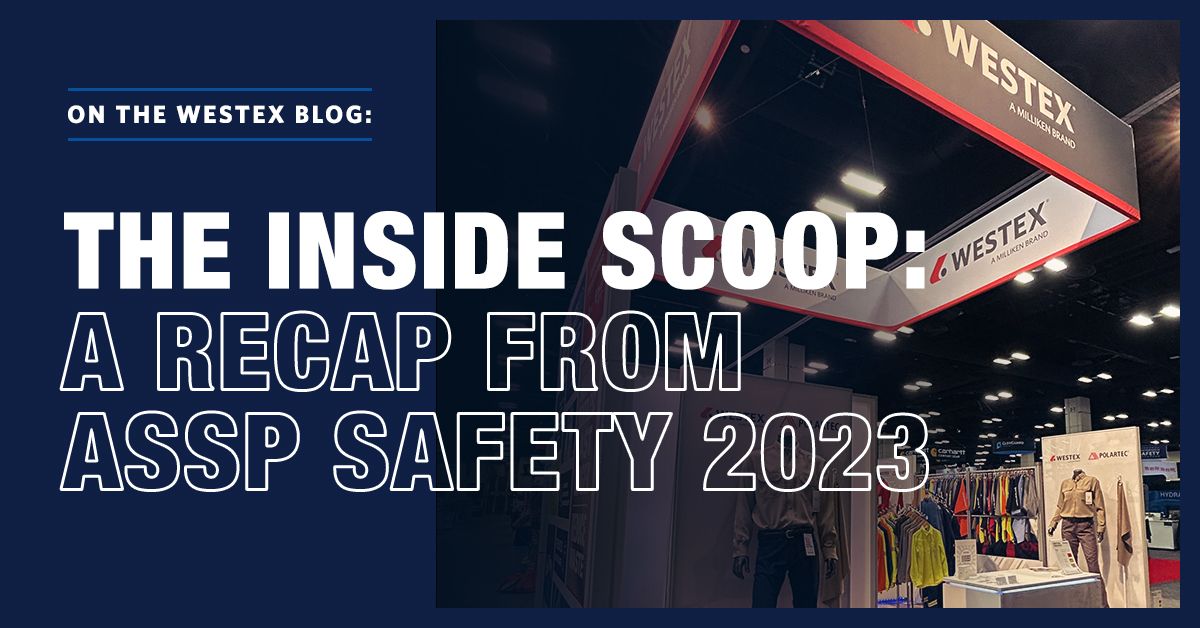 The Inside Scoop: A Recap from ASSP Safety 2023
Westex visited ASSP's signature tradeshow this year, Safety 2023 in San Antonio, TX, to show the latest from our product development team, share updates on our current initiatives, meet with our customers and interact with visitors from across the country.
Let's Start with What's New
When it comes to new colors, we hear you. And we're always working to innovate our products. Safety 2023 provided the perfect opportunity to share some exciting additions to our fabric offering: our new Westex® DH Air™ Sateen fabric in khaki and Polartec® Power Dry® FR fabrics in hi vis yellow and bright orange made their debut at this year's tradeshow.
Additionally, we re-introduced our DH Air Sateen fabric in hi vis yellow, NSC's 2022 Best in Show winner, and showed off our Westex® Indigo® denim made with REPREVE® fiber. You might've seen some of our associates wearing our DH Air Sateen and Indigo fabrics each day on the show floor.
Teaming up to Protect Against Thermal Hazards
Westex fabrics found their way into several partner booths at the show. We were proud to have a few of our products displayed by renowned brands like Ariat, Lakeland, LAPCO, National Safety Apparel, Rasco and Tyndale—all highlighting our DH Air line. Red Wing and Wrangler were additional partners showcasing our products.
We also showcased garment pairings made with Westex fabrics throughout our booth with many of those same brands—including Aramark, Ariat, Big Bill, Dovetail, LAPCO, National Safety Apparel, Norse, Rasco, Seraphina, Tyndale and Wrangler.
Education, Inspiration and Appreciation
Sustainability is always a huge focus for our team, and we put a spotlight on it throughout our time at Safety 2023. We debuted a sustainability-themed booth and brochure highlighting critical aspects of our journey toward a healthier future. We shared our SBTi targets and how we're striving to reach them, and to add some fuel for curiosity, any attendees that answered our sustainability-focused questions were entered into an AirPods giveaway—not to mention the cowboy-boot koozies we shared with visitors throughout the day.
It is hard to pick one favorite part of this year's event, so we've tried to narrow it down to a few.
Brandon Schroeder is a great partner to our team and survivor of an arc flash—one of the threats we protect against. At Safety 2023, Brandon welcomed more than 250 attendees to his "Believe in Safety" presentation. Hearing his story served as an inspiring, valuable reminder of why wearing reliable PPE is so crucial.
The women's PPE fashion show has become a highlight of ASSP in recent years, and we were ecstatic to see our fabrics featured on stage. Afterwards, the team supported Seraphina at a networking event at Maverick Whiskey with more than 100 other attendees to continue the conversation around women's PPE and sample flights of whiskey.
Our team is always excited to attend industry events like these and talk with our customers and end users. Safety 2023 certainly delivered and has us excited about the tradeshows to come this year. We hope to see you at the next one!