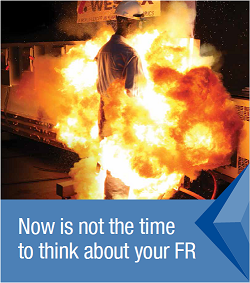 OSHA & Industry Changes that Impact FR Clothing Programs
The challenge of keeping pace with keeping safe
In today's world, information overload makes it nearly impossible to digest all of the messages constantly being pushed at us. With a steady stream of news updates always in front of us, it can be difficult to pull out the most important and relevant issues. Two items that are particularly important to the electric and utility industries are OSHA's changes to standard 1910.269 regarding FR clothing and the proposed changes to ASTM F1506. Read more to learn about OSHA clothing regulations and requirements.
OSHA 29 CFR 1910.269
After nine years of revisions, OSHA released its changes to CFR 1910.269 in March of 2014. Employers are now required to provide employees with arc-rated FR garments equal to or greater than the estimated heat energy a worker may be exposed to by August 2015 (note that the original deadline of April 1, 2015 has since been extended to August 31, 2015). This means that employers are required to make reasonable estimates of the incident heat energy of any electric arc hazard to which an employee would be exposed.
Before starting an FR clothing program or signing a long-term rental service contract, the Arc Flash Incident Energy Analysis is the first step to determining what kind of protection is needed for your workers. OSHA has now provided specific guidelines for making "reasonable assumptions" during a company's incident energy calculation. Companies also need to make sure their estimates meet OSHA's guidelines to stay current with ongoing research that updates estimation methods. Once incident energies have been determined, the appropriate minimum protection levels for FR daily wear can be selected.
Previous OSHA direction simply stated that "clothing cannot ignite and cause additional harm." Now, OSHA considers FR clothing personal protective equipment (PPE) and it must have the appropriate thermal protection while being provided by the employer at no cost to the employee. This update is important as FR clothing has two primary functions:
Not ignite and continue to burn (covered by the old standard)
Insulate the wearer so that no second or third degree burns occur through the clothing
Additionally, this FR clothing must be clean and free of flammable contaminants, and in good condition – a responsibility that now falls squarely on employers. Ultimately, the requirement for employers to complete their hazard analysis and an increase in employee PPE oversight is likely to impact FR clothing programs.
ASTM F1506
ASTM F18.65 is the subcommittee that is responsible for test methods for arc-rated FR clothing, including ASTM F1506 which covers most of the clothing worn by electric workers. Pending changes to ASTM F1506 are intended to create a more transparent process for identifying fabrics and verifying specifications. This would be an important update since the fabric brand helps determine the vast majority of the protection offered by an arc-rated garment, along with other important properties, such as FR durability, comfort, shrinkage, etc. Safety managers and directors have come to trust specific brands and therefore often specify FR fabric brand by name for their FR clothing programs.
Another change being considered relates to the labeling of FR garments to add more transparency for the end user about the fabrics used in any particular garment. Some FR garment manufacturers are actually guarded about disclosing the source of the fabric while others always include the brand and style of the fabric, including the fabric's name. This suggested revision allows manufacturers to use a "unique fabric identifier," which helps end users to verify the garment is being made with the fabric specified by your company. The fabric identification requirement would add a direct link between the label and the fabric test report – which the core of the safety requirement for FR fabrics, and ultimately finished garments.
Think about it, if the worst were to occur and an employee is injured on the job, you don't want to be guessing where your FR garments and fabrics came from while leaving other workers potentially exposed and in danger.
Understanding Your FR Fabrics
The market today is flooded with "new and improved" FR fabrics. It is important for safety managers and directors to verify a fabric's FR durability and consistency of production. In fact, less than 20% of the FR fabric brands share over 80% of the U.S. market – data that highlights how some brands fall short when it comes to shrinkage, comfort, FR durability, appearance issues, etc. What companies hear from many brands is that their fabric is "the best" solution. But buyer beware! Distinct differences among FR fabrics, even within the same category (such as 88/12), stresses the importance of understanding all of the garment components, from the fabric production to garment construction techniques. Companies should use due diligence to make sure the garment supply chain has sufficient controls in place to ensure the performance of the finished product.
Not all FR fabrics are created equal and the core of any FR clothing program is in the fabric selection. Even though the terms inherent and treated are outdated, FR fabric types are typically categorized by suppliers in these two ways. However, what should be most important to FR wearers is the durability of a garment's FR properties, that the flame resistance will not wash or wear out, and not how the FR properties are engineered into the fabric. When the FR durability is guaranteed and market-proven for the life of the garment, how flame resistance is accomplished ceases to be relevant.
As the old saying goes, "personal protective equipment is your last line of defense" - it is meant to protect only if all other safety measures have failed. You want to be sure that your last line of defense is a quality product that has been market-proven.